I have some very exciting news to share!!! I am joining the
Whimsical Wednesday
Design Team! I have never been on a design team before and I couldn't be more excited and can't wait to get started!!! I have entered a few of the Whimsical Wednesday challenges and I absolutely love this team!!! Not only are they super talented designers, they are the sweetest and most thoughtful people! They make sure to stop by everyone's blogs and they leave the most heartfelt and encouraging comments!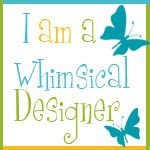 If you are not familiar with the Whimsical Wednesday challenge blog, check it out
HERE
and become a follower. This challenge blog welcomes all crafters whether you use a Cricut, Silhouette, and/or other die-cutting machine (or no die-cutting machine). It is all about the challenge theme and the project type: scrapbook layout, card, and/or other project. Also, the creator of this challenge blog,
Stephanie at Always Crafting
, is fabulous! She is talented and has a wonderful heart. And, I love that the challenges last for two weeks so you have more time to enter. There is a wonderful challenge going on now - stop by the WW blog and enter!
To see the official Whimsical Wednesday Design Team annoucement, please visit
Stephanie's post at her personal blog Always Crafting
. Also, to celebrate the new Whimsical Wednesday Design Team, we are having a Blog Hop!
The Blog Hop starts on 7/8/11 at 7PM EST and will go thru the weekend.
I really hope you join us in our celebration. There will be great prizes and of course, lots of inspiration from a very talented group of designers!!! Plus, the hop project supports a very great cause!
Have a wonderful holiday weekend!!!